Woo Hoo! My Barbie pink laptop is back! Barbie has been around the world and back....kind of typical of the "real" Barbie. Barbie turned 50 a while ago. "Naturally" it's time for Barbie to check in somewhere and have a little nip and tuck or Botox! For my Barbie laptop, a new keyboard was just what the doctor ordered. Just like any perfect Barbie, it's the outsides that count. Appearances. My "real" Barbies had great clothing and accessories, cars and even Ken.
Ahhhh Ken, the quintessential pretty boy! Nope, not for me. Ken just didn't do it for me. Too "plastic"....not my type...icky. And just like Ken, a little too stiff for me. Too contrived....like one of those Sears Catalogue types....frozen in place in the ol' tying his shoelace pose.
Pose. That's the word. Posers. I just learned that word last year. It still cracks me up. Even Grace and T.J. are on to posers....anyone who's trying to hard to drop names...of schools, accomplishments, connections, clothing. Barbie and Ken were posers! That's what I knew way back when....way before I knew the term.
I always preferred Midge, Barbie's younger sister.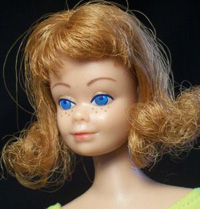 Midge seemed less uptight. Her style. Her clothing. Wait....who was Midge's boyfriend? Or was she a woman who could handle herself...without a guy. Maybe Midge learned how to be on her own and take care of herself....before glomming onto the guy...like Barbie. Maybe Barbie didn't hang on. Grace and T.J. would call the "hanger onners" of today, "tools."